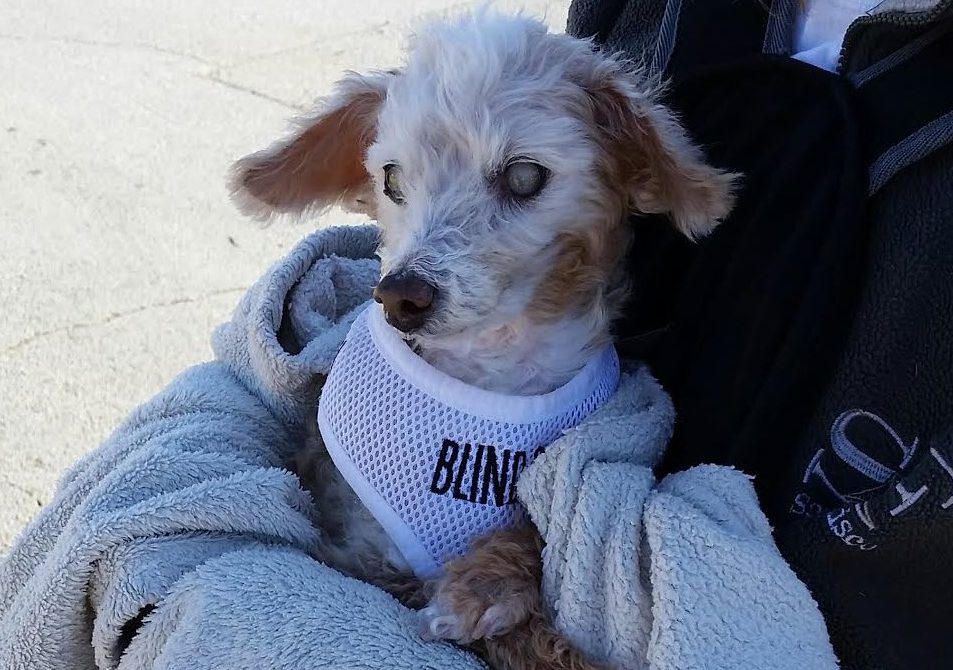 Every now and then, an animal comes into your life and touches your heart in unexpected ways.  For us, that was Sissy. She was taken in by ARF in 2008 after she was abandoned at PetSmart. Sissy was adopted but once again abandoned in 2014, and this time in deplorable condition. By then she had advanced cataracts that caused total blindness and teeth so rotten they all had to be removed. We decided this was a good time to come out of foster retirement, and we opened our home to her. Despite all she had endured, Sissy, formerly known as Harmony, was an extremely loving and happy girl. Over some months, she grew to completely trust us, and her personality really began to show. She was quite sassy! Eventually, we adopted her ourselves. We enjoyed nearly 4 years with her, even though she was estimated to be at least 13 when dumped the second time. She fulfilled our lives and brought us more joy than we could imagine.
Because she meant so much to us, we would like to encourage the adoption of pets who might otherwise be overlooked, simply because they're not so young anymore. Often, they may already be trained, and their personalities are typically well-established. These wise souls are ready to leave their past behind and embrace the good life ahead. They are no less deserving than pets younger than they are, and maybe even more so. Most senior dogs are calmer than their youthful counterparts, but that isn't to say they aren't playful! Even toward the end, Sissy greeted us with a little dance when we came home from work. We hope you will consider adding a senior pet to your family and providing them a safe and loving home to live out the rest of their days.
To honor the memory of our precious little Apricot Toy Poodle, Sissy, we established a fund at ARF in her name. This fund helps provide medical treatment to senior dogs (ages 9 and up) who are in ARF's care. It may also cover adoption fees as needed. If you would like to help cover veterinary expenses for senior dogs like sweet Sissy, please designate your donation to Sissy's Seniors by adding a note on your check or PayPal contribution.
With Appreciation,
– Melanie & John Tipton
Sissy's Seniors Adoption Success Stories
Miss May is doing great, but I've been calling her Reba.

She had her teeth removed and she's happy and healthy now that she's recovered from surgery. She loves to eat and she is always excited to get treats, especially cheese.

We go on a short walk every morning and she relaxes in her dog bed for much of the day while I work. She's a very good girl. She likes to hang out with my other two dogs, Rye and Jangers.

We're so happy that she's a part of the family!

-R. Dubrovin

Pepper has been such a blessing to our family and is much loved by our extended family and friends. She is the sweetest!

It took Peppermint, "Pepper," some time to adjust to her new home and family, however, she has now fully adopted us as her family.  Pepper follows us around everywhere and lays next to me during the day while at work. She loves people and receiving lots of petting. Although she loves to be pet, she is not a snuggler and needs this space to feel comfortable. She doesn't play with toys but has learned that she loves bubble baths and exploring around the creek bed.

Overall, Pepper is happy and living a great life and we are so happy she is part of our family!

-S. Fry

Quinn is doing great, he has two sisters that show him the ropes at our house.

His favorite thing is laying in his chair covered up with a cozy blanket.

-Quinn's Mom